Home
Talk

6
319pages on
this wiki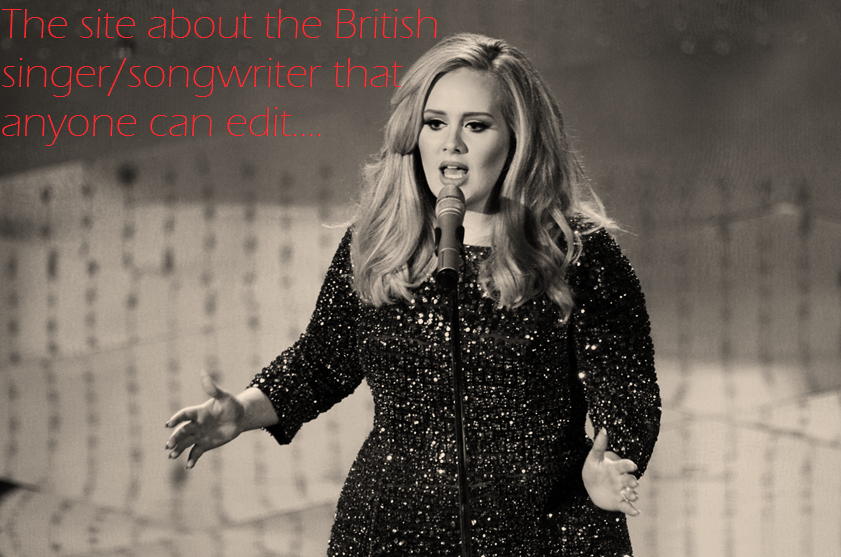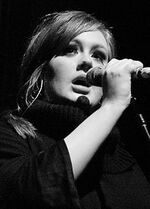 Welcome to the Adele Wiki. Founded in 2011 by Tsu'tey te Rongloa Ateyitan, the website is dedicated to the British singer-songwriter Adele. The Adele Wiki is a 100% free website. Feel free to discover, share, and add your knowledge!

We currently have 319 articles in English.

Please feel free to contribute by:
Reading our policies.
Expanding articles.
Fixing grammar and punctuation mistakes.
Adding new information.
Creating new articles.
Interacting with the other users on the Wiki.
Checking out Adele's official website for all the latest Adele news!
Please note: We strictly prohibit spam or vandalism on this site. Any edit made that is considered spam or vandalism could result in a ban from the site for up to one year, so please be considerate when editing! We also encourage you to provide references for information because we want to be the most factual site we can possibly be! Thank you!
If you have any questions, please contact us at adelewikia@gmail.com.

Adele Laurie Blue Adkins (born 5 May 1988), better known simply as Adele, is an English singer-songwriter, musician and multi-instrumentalist. Adele was offered a recording contract from XL Recordings after a friend posted her demo on MySpace in 2006. The next year she received the Brit Awards' "Critics' Choice" award and won the BBC Sound of 2008. Her debut album, 19, was released in 2008 to much commercial and critical success. It certified four times platinum in the UK, and double platinum in the US. Her career in the US was boosted by a Saturday Night Live appearance in late 2008. At the 2009 Grammy Awards, Adele received the awards for Best New Artist and Best Female Pop Vocal Performance.

Adele released her second album, 21, in early 2011. The album was well received critically and surpassed the success of her debut, earning the singer six Grammy Awards in 2012 including Album of the Year, equalling the record for most Grammy Awards won by a female artist in one night. The album has also led to her receiving numerous other awards, including two Brit Awards and three American Music Awards. The album has been certified 16 times platinum in the UK; in the US the album has held the top position longer than any other album since 1985, and is certified Diamond. As of right now, it is the fourth best-selling album of all-time in the UK. According to IFPI, the album has sold over 26 million copies worldwide.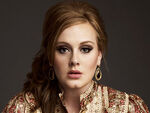 The success of 21 earned Adele numerous mentions in the Guinness World Records. She is the first artist to sell more than 3 million copies of an album in a year in the UK. With her two albums and the first two singles from 21, "Rolling in the Deep" and "Someone Like You", she became the first living artist to achieve the feat of having two top-five hits in both the UK Official Singles Chart and the Official Albums Chart simultaneously since the Beatles in 1964. With her third release from the album, "Set Fire to the Rain", which became her third number one single in the US, Adele became the first artist in history to lead the Billboard 200 concurrently with three Billboard Hot 100 number-ones. Two more less successful singles from 21 were released: "Rumour Has It" (which peaked at number 16 on the Billboard Hot 100) and "Turning Tables" (which peaked at number 63 on the Hot 100 due to not being released as an official single in the US like it was in the majority of Europe).
Adele is the first female in the history of the Billboard Hot 100 to have three singles in the top 10 at the same time as a lead artist, and the first female artist to have two albums in the top five of the Billboard 200 and two singles in the top five of the Billboard Hot 100 simultaneously. 21 is the longest running number one album by a female solo artist on the UK and US Albums Chart. In 2011 and 2012, Billboard named Adele Artist of the Year. In 2012, Adele was listed at number five on VH1′s 100 Greatest Women In Music, and the American magazine Time named Adele one of the most influential people in the world. In 2012, Adele announced via her official website that she and her partner Simon were expecting a child, and on October 19, 2012, Adele gave birth to their son, Angelo. In 2013, she received an Oscar as well as the Golden Globe for Best Original Song for her song "Skyfall", written for the twenty-third James Bond film of the same name.
In spring of 2013, Adele was rumored to have entered back into the studio with past collaborator Paul Epworth and producers Kid Harpoon and James Ford to begin work on her third studio album. She reportedly has four songs finished and will continue to work on it in London before flying to Los Angeles to finish recording the album, with plans to release the album by mid-2014. Adele confirmed via Twitter that the album would be titled 25 and would be released later on in 2014.


YOU'LL NEVER SEE ME AGAIN
"Never Gonna Leave You" is a song written by Adele and Fraser T. Smith for Adele's sophomore album, 21. The song was produced by Smith. On September 1, 2014, the song leaked in full onto the Internet, along with "You'll Never See Me Again" and the demo for "Set Fire to the Rain". It can be assumed it was one of the earliest songs written for the album, as it included lyrics from several other songs included on the final version of 21. Many fans have stated that it is possible the song will be included on Adele's third studio album because it has a happier theme, similar to how Adele said the new album would sound.

The song was included on a promo CD that featured the three songs Smith completed with Adele for 21, although the CD (given the title Fraser T. Smith Sessions) is supposedly owned by XL Recordings. The CD included "You'll Never See Me Again", the demo of "Set Fire to the Rain", and "Never Gonna Leave You".

"Never Gonna Leave You" only appears on Fraser T. Smith's BMI because Adele is incorrectly credited as "Adele Watkins" on it.

SOMEONE LIKE YOU (LIVE AT THE MTV VIDEO MUSIC AWARDS)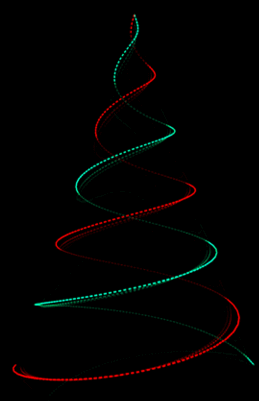 FOLLOW US ON TWITTER
Loading RSS data...
Loading RSS data...
Which British artist compared to Adele do you prefer?

Create blog post
Blogs
Hello, guys! I am extremely sorry for the late blog post this week. This year is a very busy time of year for everyone, and with several personal issues going on as well as how incredibly busy I am a…

Read more >

Hello, everyone! As promised, our annual "Christmas With Adele" tradition has continued this year.

Later on in this week, I hope to be decorating the main page with a digital Christmas tree and gettin…

Read more >

Hello Daydreamers! Happy Thanksgiving! We hope all is well.

We have a brief news wrap-up from this week. Not only did we get some more (minor) details regarding Adele's third studio album (reportedly …

Read more >
See more >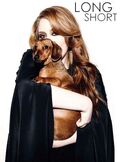 Louie (born June 2009, age 4) is Adele's dachshund.

In July 2009, Adele decided to get new floor in her home for the arrival of her "little doglet". The dog had been born on the night Adele went to see Britney Spears at the O2 in London. She almost called the dog Britney (as a reference to Spears) even though he was male, although she claims it only lasted a few hours until after her hangover stopped. She also considered naming the dog Aaron Lennon, after one of Adele's favorite soccer stars. Once she heard the dog howling along to a Louis Armstrong record, though, Adele decided to name him "Louie".

Adele has also stated that her furry friend has had many adventures in his first nineteen months of life, including being attacked by a Jack Russell terrier at the park across from Adele's home, although now the dog refuses to visit the location again. Adele then bought a house right opposite of a park for the dog to go for a walk in every day.