"All I Ask" is a song recorded by Adele, taken from her third studio album, 25. The song was written by Adele with Bruno Mars, Christopher "Brody" Brown, and Philip Lawrence. It appears as the tenth track on the album.
Background
Edit
"All I Ask" was reportedly inspired by Billy Joel, consisting solely of piano and vocals.[1] Bruno Mars revealed to Vogue that "All I Ask" was inspired by the power ballads of "divas from the nineties where the artist is really showing off their vocal range," specifically mentioning Whitney Houston. "We all crowded around the piano until we found something that sparked," he continued. "[The process took] a day, and maybe one more day to make sure we weren't tripping out and we actually had a song. It makes me very jealous because it doesn't happen like that all the time!"[2]
Adele spoke of the fun she and Bruno Mars had writing the track, stating, "We [were] gonna make something cool, but then we were just having too much fun. I've never sung so hard in [my] whole life. Can you imagine the fun me and Bruno had making that?"[3]
In a track-by-track review with The New York Times, Adele further expanded on the song:
"
It's 'Let's not go out on a bad note.' That's not about my relationship now. It's not about any specific relationships that I've had. I wrote that with Bruno Mars, and we were like, 'Let's just fucking go for it.' We're both a bit fucking soppy, let's just fucking write the soppiest ballad that we could possibly write together. And it's a lovely song.

And I think that line — 'It matters how it ends' — is obviously for me and all of my friends. That's what we always say when something's about to happen. It matters how this ends, how we get out of this one — whether it be a relationship, a night out, watching a film, whatever. It matters how everything ends because that's how you remember it.[4]

"
In an interview with Zane Lowe, Adele noted that, "The love songs on this record are about overcoming obstacles in relationships. And that's actually the best feeling in the world. I'm also super fascinated by going from loving someone so much to hating them. That's what 'All I Ask' is."[5]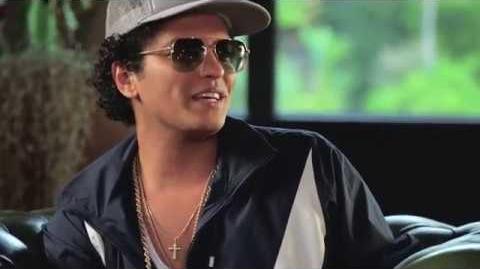 Bruno Mars revealed that, while Adele was recording the song, "There was a moment when she was singing in the booth and I'm not exaggerating at all and the water was vibrating—like, you know that scene in
Jurassic Park
? She's got some pipes on her, and she's just a superstar." He further noted that Adele very vocal in admitting to ideas that she didn't like; however, "as soon as we hit a couple chords that she liked, we started rolling, and that's where we got that song from."
[6]
"All I Ask" was reportedly considered for the fourth single from 25, but ultimately, "Water Under the Bridge" was chosen instead.[7]
Critical reception
Edit
"All I Ask" received positive reviews from music critics. Yahoo! News' Liz Rowley thought that "All I Ask" leaves listeners with "a solid sense of accepting love lost, and clears up the dreadful finality that resignation brings with it," and stated that it "arrives at an emotional plane that's devastating yet utterly relatable." Christina Garibaldi of MTV wrote that it is an emotional "song of desperation" and that the listener can feel Adele's heart "break into a million pieces." Neil McCormick of The Telegraph described "All I Ask" as a "deep, resonant piano ballad." Tom Breihan of Stereogum called "All I Ask" a weeper and likened it to the works of American singer Barbra Streisand.
Slate's Forrest Wickman stated that the singer seeks one last night with a lover, before they part their separate ways. As part of a positive review of 25, Andy Gill of The Independent opined that Adele seems to be jinxing a relationship for the sake of one last memory. The New York Times' Jon Caramanica listed "All I Ask" as the fifth best song of 2015. In a rave review, he observed a palpable gear shift and called the song a "masterpiece", adding that it is "even bigger than the legend." Natalie Finn of E! considered the song's lyrics "It matters how this ends / 'cause what if I never love again?" as the most emotional from 25. In a generally positive review, Vanity Fair's Josh Duboff opined that an album listener was most likely to sing "All I Ask" "in [their] shower again and again."[8]
Promotion and live performances
Edit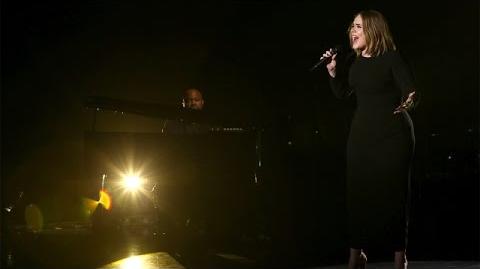 Prior to the release of 25, Adele partnered with Target to promote the album. Seven short music videos were filmed for different songs on the album in order to promote the Target deluxe edition, one of which was for "All I Ask."[9] The video features Adele leaning against a wall in an empty house, singing the first half of the chorus.
Adele performed "All I Ask" live for the first time at Radio City Music Hall on November 2; it was included as part of her television special, Adele Live in New York City, which aired on December 14. She also sang the song during a "Carpool Karaoke" segment with James Corden on The Late Late Show with James Corden on January 13.
Despite Columbia Records confirming Adele would perform "When We Were Young" during her appearance at the Grammy Awards on February 15, Adele allegedly made a last-minute change, opting instead to perform "All I Ask."[10] The song's co-writer Bruno Mars introduced the performance. Technical issues caused a mixed response from viewers; Adele explained via Twitter that the microphone for the piano had fallen on the piano strings, creating an unexpected "guitar sound." Adele's microphone cut out briefly early on in the performance as sound engineers attempted to fix the problem. In her explanation, Adele brushed off the mishap, stating, "Shit happens."[11] Despite this, many praised Adele for powering through the performance despite the glitch, which Neil Portnow, President of the Recording Academy, affirmed was an issue on their part rather than hers.[12]
She performed the song once again, two days later, on The Ellen Show.[13] When discussing the Grammys incident with Ellen, she admitted that she felt "so embarrassed" by the technical difficulties, adding, "I cried pretty much all day [on Tuesday]. In fairness, I would've cried if it had gone really well as well. I kept spontaneously bursting into tears yesterday, but it was alright, I'm fine."[14]
"All I Ask" was featured in the encore for the first two legs of the Adele Live 2016 tour, alongside "When We Were Young" and "Rolling in the Deep." However, the song was cut from the setlist on July 16 and has not been performed since.[15][16]
The song's co-writer Bruno Mars performed the song for BBC Radio 1's Live Lounge.[17] English boy band Collabro have also covered the song.[18]
Personnel[19]
I will leave my heart at the door
I won't say a word
They've all been said before, you know
So why don't we just play pretend
Like we're not scared of what is coming next
Or scared of having nothing left

Look, don't get me wrong
I know there is no tomorrow
All I ask is

If this is my last night with you
Hold me like I'm more than just a friend
Give me a memory I can use
Take me by the hand while we do what lovers do
It matters how this ends
Cause what if I never love again?

I don't need your honesty
It's already in your eyes
And I'm sure my eyes, they speak for me
No one knows me like you do
And since you're the only one that mattered
Tell me who do I run to?

Look, don't get me wrong
I know there is no tomorrow
All I ask is

If this is my last night with you
Hold me like I'm more than just a friend
Give me a memory I can use
Take me by the hand while we do what lovers do
It matters how this ends
Cause what if I never love again?

Let this be our lesson in love
Let this be the way we remember us
I don't wanna be cruel or vicious
And I ain't asking for forgiveness
All I ask is

If this is my last night with you
Hold me like I'm more than just a friend
Give me a memory I can use
Take me by the hand while we do what lovers do
It matters how this ends
Cause what if I never love again?
References
Edit
Ad blocker interference detected!
Wikia is a free-to-use site that makes money from advertising. We have a modified experience for viewers using ad blockers

Wikia is not accessible if you've made further modifications. Remove the custom ad blocker rule(s) and the page will load as expected.