"
When I listen to you, I feel like I'm listening to God.

— Beyoncé speaking to Adele.

"
Beyoncé


Adele with Beyoncé at the Grammy Awards in 2013.
Birth Name
Beyoncé Giselle Knowles
Born
September 4, 1981 (age 30)
Occupations
Singer, songwriter, record producer, actress, dancer, entertainer, choreographer, model, video director
Instruments
Vocals
Beyoncé Giselle Knowles
(born September 4, 1981), often known simply as
Beyoncé
, is an American R&B recording artist, actress and fashion designer. Born and raised in Houston, Texas, she enrolled in various performing arts schools and was first exposed to singing and dancing competitions as a child. Knowles rose to fame in the late 1990s as the lead singer of the R&B group Destiny's Child, one of the world's best-selling girl groups of all time. Knowles is also the wife of the rapper
Jay-Z
and gave birth to their first child in early 2012.
Knowles' songs "Crazy in Love", "Irreplaceable", "Halo", and "Single Ladies (Put a Ring On It)" are some of her most successful singles, and some of the most successful singles of all-time. Beyoncé has been named the most beautiful woman in the world by many organizations and magazines, including People in 2012. Beyoncé has also impacted some of the world's biggest music stars, including Adele, Leona Lewis, and Jessie J. She has received acclaim from critics and fans alike for her genuine personality and vocal abilities. Today, Knowles is known as one of the most successful and popular music artists in the world.
Relationship with Adele
Adele
is a fan of hers, and Knowles is a fan of Adele's, as she has stated Adele was one of her biggest influences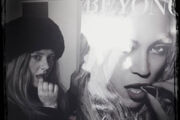 while writing and recording
4.
Adele was also seen applauding her during the 2011 MTV Video Music Awards, in which the entire crowd had gone wild after Knowles sang her song "Love On Top" and officially announced her pregnancy to the public, having showed her baby bump after the performance. In 2012, Adele and Knowles both expressed interest in collaborating with one another.
Adele has stated that the "highlight" of her life was getting to meet Beyoncé and Jay-Z, stating, "I ran out on the balcony and fell into her security's arms, going, 'She's so nice!' And literally collapsed. Sobbing my heart out, it was like being winded. Highlight of my life, ever. I don't know her but she's a huge part of my life. Everything I refer to has always got something to do with Destiny's Child or her. She just knows what she wants. She's in control of it all. She's classy. She's still totally fucking relevant. And just a nice person." [1]
At a later date, Adele stated: "I adore Beyoncé, I've been listening to her since I was about 11. I think her work as an artist and a singer is enviable in terms of the length of her career and how she's grown and grown, but most of my inspirations are [from] old music and sadly they have all died." [2]
Knowles and Adele were both inspired by Etta James, as well. Both are also good friends of the pop singer Lady Gaga, as Knowles has collaborated with Lady Gaga twice.
Adele also modeled her alter ego, Sasha Carter, after Knowles' alter ego, Sasha Fierce, and June Carter.
Knowles's song "Crazy in Love" is featured on Adele's Playlist, a compilation of Adele's favorite songs that was released onto the UK iTunes Store in 2008.
References
External Links