Chimes of Freedom: The Songs of Bob Dylan Honoring 50 Years of Amnesty International
Comments

0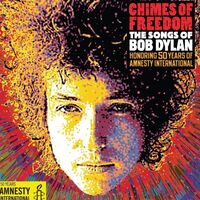 Chimes of Freedom: The Songs of Bob Dylan Honoring 50 Years of Amnesty International
(often simply called
Chimes of Freedom
) is a charity compilation album featuring different covers of Bob Dylan songs by various artists, including
Adele
, Maroon 5, Ke$ha,
Sugarland
, and Miley Cyrus (among various others). Adele's contribution to the album was a live version of "
Make You Feel My Love
", performed at WXPN. The album was released on January 24, 2012 in the US and Canada. It was released on February 6 of the same year to the rest of the world. The album is a 75-track tribute to the work of Bob Dylan.
Proceeds from the album will be donated to the human rights organization Amnesty International. It debuted in the U.S at number 11 on the Billboard 200 with 22,000 copies sold while the 2-CD version available at Starbucks debuted at number 38 with more than 10,200 copies sold.
Track listing
Edit
01. Raphael Saadiq – Leopard-Skin Pill-Box Hat
02. Patti Smith – Drifter's Escape
03. Rise Against – Ballad of Hollis Brown
04. Tom Morello The Nightwatchman – Blind Willie McTell
05. Pete Townshend – Corrina, Corrina
06. Bettye LaVette – Most of the Time
07. Charlie Winston – This Wheel's On Fire
08. Diana Krall – Simple Twist of Fate
09. Brett Dennen – You Ain't Goin' Nowhere
10. Mariachi El Bronx – Love Sick
11. Ziggy Marley – Blowin' in the Wind
12. The Gaslight Anthem – Changing of the Guards
13. Silversun Pickups – Not Dark Yet
14. My Morning Jacket – You're A Big Girl Now
15. The Airborne Toxic Event – Boots of Spanish Leather
16. Sting – Girl from the North Country
17. Mark Knopfler – Restless Farewell
01. Queens Of The Stone Age – Outlaw Blues
02. Lenny Kravitz – Rainy Day Woman # 12 & 35
03. Steve Earle & Lucia Micarelli – One More Cup of Coffee (Valley Below)
04. Blake Mills – Heart Of Mine
05. Miley Cyrus – You're Gonna Make Me Lonesome When You Go
06. Billy Bragg – Lay Down Your Weary Tune
07. Elvis Costello – License to Kill
08. Angelique Kidjo – Lay, Lady, Lay
09. Natasha Bedingfield – Ring Them Bells
10. Jackson Browne – Love Minus Zero/No Limit
11. Joan Baez – Seven Curses (Live)
12. The Belle Brigade – No Time To Think
13. Sugarland – Tonight I'll Be Staying Here With You (Live)
14. Jack's Mannequin – Mr. Tambourine Man
15. Oren Lavie – 4th Time Around
16. Sussan Deyhim – All I Really Want To Do
17. Adele – Make You Feel My Love (Recorded Live at WXPN)
01. K'NAAN – With God On Our Side
02. Ximena Sariñana – I Want You
03. Neil Finn with Pajama Club – She Belongs to Me
04. Bryan Ferry – Bob Dylan's Dream
05. Zee Avi – Tomorrow Is A Long Time
06. Carly Simon – Just Like a Woman
07. Flogging Molly – The Times They Are A-Changin'
08. Fistful Of Mercy – Buckets Of Rain
09. Joe Perry – Man Of Peace
10. Bad Religion – It's All Over Now, Baby Blue
11. My Chemical Romance – Desolation Row (Live)
12. RedOne featuring Nabil Khayat – Knockin' on Heaven's Door
13. Paul Rodgers & Nils Lofgren – Abandoned Love
14. Darren Criss featuring Chuck Criss and Freelance Whales – New Morning
15. Cage the Elephant – The Lonesome Death of Hattie Carroll
16. Band of Skulls – It Ain't Me, Babe
17. Sinéad O'Connor – Property of Jesus
18. Ed Roland and The Sweet Tea Project – Shelter From The Storm
19. Ke$ha – Don't Think Twice, It's All Right
20. Kronos Quartet – Don't Think Twice, It's All Right
01. Maroon 5 – I Shall Be Released
02. Carolina Chocolate Drops – Political World
03. Seal & Jeff Beck – Like A Rolling Stone
04. Taj Mahal – Bob Dylan's 115th Dream
05. Dierks Bentley – Senor (Tales of Yankee Power) (Live)
06. Mick Hucknall – One Of Us Must Know (Sooner Or Later)
07. Thea Gilmore – I'll Remember You
08. State Radio – John Brown
09. Dave Matthews Band – All Along the Watchtower (Live)
10. Michael Franti – Subterranean Homesick Blues
11. We Are Augustines – Mama, You Been On My Mind
12. Lucinda Williams – Tryin' To Get To Heaven
13. Kris Kristofferson – Quinn The Eskimo (The Mighty Quinn)
14. Eric Burdon – Gotta Serve Somebody
15. Evan Rachel Wood – I'd Have You Anytime
16. Marianne Faithfull – Baby Let Me Follow You Down (Live)
17. Pete Seeger – Forever Young
18. Bob Dylan – Chimes of Freedom