Ad blocker interference detected!
Wikia is a free-to-use site that makes money from advertising. We have a modified experience for viewers using ad blockers

Wikia is not accessible if you've made further modifications. Remove the custom ad blocker rule(s) and the page will load as expected.
Louie




Birth Name
Louis Armstrong (Louie)
Born
10 June, 2009
Occupations
Dachshund of Adele
Louie (born June 2009, age 6) is Adele's dachshund.
History
In July 2009, Adele decided to get new floor in her home for the arrival of her "little doglet". [1]
The dog had been born on the night Adele went to see Britney Spears at the O2 in London. She almost called the dog Britney (as a reference to Spears) even though he was male, although she claims it only lasted a few hours after her hangover stopped. She also considered naming the dog Aaron Lennon, one of Adele's favorite soccer stars. Once she heard the dog howling along to a Louis Armstrong record, though, Adele decided to name him "Louie."[2]
Adele has also stated that her furry friend has had many adventures in his first nineteen months of life, including being attacked by a Jack Russell terrier at the park across from Adele's home, although now the dog refuses to visit the location again. Adele then bought a house right opposite of a park for the dog to go for a walk in every day.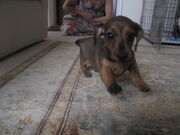 Adele has also said that Louie has several dog "mates"[3], including a dog named Bev that lived around the corner from her. [4] Adele even joked that Louie would be the subject of her third album. She claims that Louie is the "love of her life." Adele had also mentioned a rather funny moment that had happened when she brought Louie with her to an interview with Irish TImes, in which the dog had "farted," much to Adele's horror, although now she laughs about it. Louie had also made an appearance in the video of Adele's track-by-track interview on her website about the music of her 2011 album, 21, when the pop singer was interviewed about the song "He Won't Go." Adele stated that the reason she had met the couple the track was about was because of her love of dogs. Louie also appeared on the cover of Nylon magazine with Adele. [5]
Adele originally expressed interest in buying another dog and naming it Ella, after Ella Fitzgerald, which would be Louie's "sister." It is unknown if she still has plans to purchase another dog.
References