25 is the third studio album recorded by Adele. It was released on November 20, 2015 through XL Recordings. [1] Following the release and international success of Adele's second studio album 21 (2011), she had considered quitting the music industry and go out on a positive note. However, Adele decided to take a hiatus instead and raise her son. During her sabbatical, she suffered with writer's block and rescheduled the album's studio sessions fearing she had lost her ability to write songs. In 2013, Adele had a breakthrough and the material that eventually became 25 manifested, with writing and recording continuing through to 2015. According to the singer, the album's title is a reflection of her when she was 25 and the frame of mind she was in during that age.
Titled as a reflection of her life and frame of mind at 25 years old, 25 is a "make-up record." The album's lyrical content features themes of Adele "yearning for her old self, her nostalgia," and "melancholia about the passage of time," according to an interview with Adele by Rolling Stone, as well as themes of motherhood and regret. In contrast to Adele's previous work, the production of 25 incorporated the use of electronic elements and creative rhythmic patterns, with elements of 1980s R&B and organs. Like 21, Adele collaborated with producer and songwriter Paul Epworth and Ryan Tedder, along with new collaborations with Max Martin and Shellback, Greg Kurstin, Danger Mouse, the Smeezingtons, Samuel Dixon, and Tobias Jesso Jr.
25 received generally positive reviews from music critics, who commended Adele's vocal performance. The album achieved commercial success by debuting at number one in more than 25 markets and broke first-week sales records in multiple countries, including the United Kingdom and United States; in the US, the album sold 3.38 million copies in its first week of release, marking the largest single-week sales for an album since Nielsen SoundScan began tracking point-of-sale music purchases in 1991. A month after its release, the album had sold more than 15 million copies worldwide. Many journalists regarded the album as having an impact on the music industry by encouraging the public to return to buying physical albums, instead of downloading or streaming.
Title
Like her first two albums, 19 and 21, the album was expected to be titled after her age at the time of the album's writing process. On May 4, 2014, in honor of her birthday the next day, Adele tweeted, "Bye bye 25... See you again later in the year x," strongly hinting that the album would be titled 25 and would be released later on in the year. [2] Despite this, the album was not released in 2014, causing speculation that the album had been pushed back and, consequently, the title would be changed. In September 2015, however, Hits Daily Double confirmed that the album was titled 25. [3] On October 21, 2015, Adele reaffirmed that the album would indeed be called 25. [4] In several interviews that took place during the promotion of the album, Adele revealed that 25 would be her final album titled after her age, noting that she "[believes] in trilogies," and that "I feel like how I feel about myself [now] is how I'm going to feel about myself forever." [5][6]
Recording and release
In the August 2011 issue of Q Magazine, Adele revealed that she had written seven songs for her third studio album, which she promised would be more intimate and stripped-down than her first two.
| | | |
| --- | --- | --- |
| " | It won't be a big production. I want it to be quite acoustic and piano-led. I want to write it all, record it all, produce it all and master it on my own. I think it'll take a lot longer because I want to do it this way. [7] | " |
The album was rumored to be released in May 2012
[8]
, although this was postponed due to Adele's recovery from her ongoing
vocal illness
. Despite no album being released, Adele instead released "
Skyfall
" from the film of the same name in October of 2012. Although Adele herself had never openly said this, her manager,
Jonathan Dickins
stated that the record following
21
would be released when "the time is right."
[9]
Adele had originally planned to release the album three years after
21
, as
19
and
21
were released three years apart as well, implying that the album had originally been scheduled for release in 2014.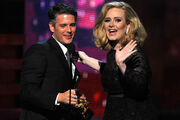 Several rumors circulated throughout 2013 claiming that Adele was secretly working on her third album, with some stating that she wanted it out by the end of 2013. In April of 2013, a report suggested that Adele was in the studio working on her third album, and an even more recent report confirmed that Adele began work on her third album on April 22, 2013 with plans to release the album in mid-2014, her record label having reportedly pushed back the release date of Susan Boyle's fifth studio album in order to release Adele's album as soon as possible. It was further stated that Adele had written four songs and would be in total "lockdown mode" for the next couple weeks while she wrote and recorded the album in London and Los Angeles; this would also contradict the previous statement that would suggest she had seven songs written for the album. [10] In June 2013, Adele was spotted several times with her son in New York City, leading the public to believe that she was staying there to record the album. One fan tweeted that she saw Adele go into the Sony building with her baby on June 24, 2013. [11] In April 2013, it was reported that Adele had gone back into the studio with plans to release the album in mid-2014, with four songs already done. According to the rumor, Adele would write and record the album in London and Los Angeles, and would work with previous collaborator Paul Epworth. [12]  
In July 2014, the World Music Awards tweeted that Adele would be surprise-releasing a new album titled 25 soon with a 2015 tour to follow. These claims were denied by Chairman Martin Mills of Beggars Group, the parent company to Adele's label XL Recordings. [13] This is not the first time a surprise release has been suggested, as the Chairman of Adele's US record distributor, Columbia Records, also denied a "sneak attack" release after being directly asked whether or not Adele would follow in labelmate Beyoncé's surprise release technique. [14]
Adele hinted in May 2014 that she would be releasing 25 later on in the year. In October 2014, however, a financial report from XL Recordings confirmed that no new music from Adele was scheduled to be released that year. Her publicist told Billboard that "at the moment, nothing is scheduled." [15] Adele was insistent on ensuring that the album was "good enough" before she released it[16], which is one of the main reasons why the album was delayed.
In an interview with Sam Ashton of MSN Music, Ryan Tedder stated that Adele will release the album "when she decides it's finished." [17] Paul Epworth similarly stated that the new Adele album "will come when it's ready" in an interview with Billboard in 2015. [18] Richard Russell, head of XL Recordings, confirmed that he was pleased with Adele's progress on the album so far, stating, "It [the album] takes the length of time that it takes to do and for it to be right. I'm really pleased with how it's going. [Adele has] always had a very high standard for what she does. She had that from day one, which is why the records have been so good." [19] Ryan Tedder told ABC News that he has heard most of the material being considered for Adele's third studio album and revealed his high hopes for the album, stating, "I'm super stoked. And I know that with the amount of insanely good songs she has to pick from — 'cause I've heard most of 'em — this album's gonna be crazy. She'll be able to toss aside hits, you know, and still have the most insane album. So I'm excited for her." [20]
Following speculation that Adele would release an album at some point in 2015, it was reported that the album would not be released until the second half of 2015, if it is even released this year. [21][22] In March 2015, Amazon Italy put an Adele album under the title of 25 up for pre-order on their website. Although some doubted whether or not the release was official, Amazon Italy removed the album from its store upon news outlets reporting it, causing major speculation that the album would be released in the near future. [23] In April of 2015, several confidential emails and documents from Sony Enterprises leaked online; among them was a presentation that explicitly stated that Adele was one of several artists who would be releasing in 2014[24], confirming that the album was originally planned to be released in 2014, as Adele hinted, but was delayed. As of May 2015, the album was still incomplete, as it was confirmed Adele had recently been working in The Bridge Writing Studios in Southeast London. [25]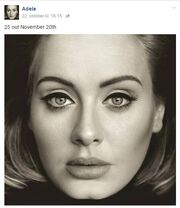 In May of 2015, Sony Music website Open Mic, a site that is "an exclusive, invite-only, online community where you are asked to give your opinions on what Sony Music is doing," published a survey regarding new music from Adele that caused speculation she would be releasing later in the year. [26][27] In June 2015, Roger Friedman, who previously was responsible for confirming Adele's involvement with Skyfall prior to her official announcement, announced that she had declined to return for the film's sequel, Spectre, in order to focus on recording her third studio album, which was tentatively scheduled for a fall 2015 release. [28]
It was further revealed that Adele's third studio album would not be released before the Grammy deadline on September 30, indicating that it will not be released until at least October. [29] British musician Naughty Boy then told reporters that Adele would be releasing in September and that several artists, including his frequent collaborator Emeli Sandé, would be postponing releases to avoid competing with Adele. [30] However, later reports indicated that twenty tracks for the album were being mixed in Hollywood and prepared for a potential pre-Thanksgiving release. [31] Billboard confirmed these reports, revealing that Adele would be releasing an album in November. [32] Hits Daily Double later confirmed that the album would be released on November 20, 2015, which was reaffirmed by Adele's Facebook page on October 22. [1][33]
Streaming
A day before the album was officially released, it was reported that Adele had decided not to release it through streaming services such as Spotify and Apple Music. [34] Adele expanded on this decision in an interview with Time, stating, "I don't use streaming. I buy my music. I download it, and I buy a physical [copy] just to make up for the fact that someone else somewhere isn't. It's a bit disposable, streaming. I know that streaming music is the future, but it's not the only way to consume music… I can't pledge allegiance to something that I don't know how I feel about yet." [35] However, the album's three singles were all made available on streaming services on the days of their respective releases; Adele explained on Today that this was due to the radio airplay the singles would already be receiving. [36] Adele's manager Jonathan Dickins also pointed out that 25 follows in the vein of 21 and "Skyfall," both of which were initially withheld from streaming services for significant periods of time. [37] On June 24, 2016, 25 was made available for streaming worldwide. [38]
Collaborators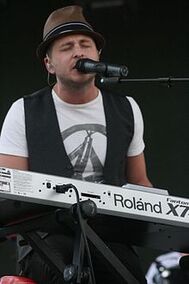 Backstage at the 55th Annual Grammy Awards, Adele confirmed that the album was not very far along, but hinted that she may begin working on it after the Oscars with Paul Epworth: "I'm not very far along at all. I'm having lots of meetings. I've been in L.A. the whole time since the Globes and I'll be here 'till the Oscars. So I'm having lots of meetings, but I've been out of the loop, really. I've just been singing my baby nursery rhymes, so I don't really know what's cool and what's not. I'm definitely going to visit with Paul Epworth and talk about doing that again." [39]
In October 2013, Ryan Tedder, who co-wrote "Rumour Has It" and "Turning Tables" with Adele, revealed that he was sworn to secrecy in regards to the album, but that he was working on it and that she sounded "even better than before." [40] Arjan Timmermans, a writer for the Grammys' official website, spoke with Tedder prior to the ceremony in 2014 and reported that Tedder had finished working on the album (although he went back into the studio with Adele several times throughout 2014 after these comments were made) and that the album sounded "different." Tedder also stated that Adele was in a good place and was very happy, and that she planned to release the album when she thinks it is ready.
William Orbit, known for his work with Madonna and Britney Spears, confirmed that in early 2014, he would be writing with Adele. [41] On January 2, 2014, it was reported that Orbit had actually been the final person to work with Adele on her album and that Adele was preparing it for release. [42] Orbit later took to Twitter to deny these reports, calling them "rumors" and further stating that he had something big planned that was occupying most of his time. [43] He later confirmed that Adele had approached him about working on her album, but he didn't hear back from her and had no further plans to work with her. [44] 
In January of 2014, Diane Warren confirmed that she had been writing new music with Adele for the album. [45] By the end of the same month, Warren had confirmed to Billboard that she had finished working on her songs with Adele, implying that the album was well underway. [46] It was further revealed that some of their writing sessions took place at RAK Studios in northwest London. [47]
In February 2015, it was confirmed that Emile Haynie had a meeting with Adele regarding her new album. [48] Haynie later confirmed that despite meeting, Adele had yet to contact him in regards to the album, and that he didn't want to "push for it" because she was "taking her time" to record it. [49] Later that month, drummer, producer, and sound engineer Matt Chamberlain posted the first picture of Adele recording the new album and confirmed that he had worked with her on her album. [50]
It has also been suggested that Phil Collins is involved in the project. Collins confirmed in January of 2014 that he had begun work with Adele. [51] However, he later stated that, "[Adele] got a hold of me and asked if I would write with her. She gave me a piece of music to finish and at first I didn't know if I'd failed the audition as I didn't hear back from her. She said, 'No, no, I'm moving house and the baby's taking up a lot of my time, I'm not actually doing anything at the moment.' And now I've heard there's a [new album] coming out. I'm not on it, I know that." [52] Despite this statement, it was reported in February of 2015 that while in Los Angeles, Adele recruited Collins to finish the material they planned to work on together and would be collaborating after all. [53]
It was also suggested that James Ford and Kid Harpoon would be two of the album's producers and give Adele a more modern and "edgy" sound. [54] In January of 2014, it was reported that Greg Wells, Francis White, and Naughty Boy would all be working on the album. [55] There has also been speculation that Adele has worked with Rick Rubin again on the album[56], however, Rolling Stone revealed in 2015 that Rubin and Adele parted ways after their work on 21. [57] Despite this, Rubin was a creative consultant for Adele during the album's writing process.
After an image of Adele and Lady Gaga surfaced online, there were reports that they had worked on new material together as well. [58] However, following the release of "Hello," Gaga confirmed via Twitter that the image was actually taken from when Adele first played Gaga "Hello." [59] In June of 2015, Pharrell Williams revealed to Ryan Seacrest that he and Adele had worked together. [60] In August of 2015, Billboard confirmed that Danger Mouse worked with Adele on the album, but that it remained to be seen if their work would make the album's final cut. [61] They later reported that Max Martin and Tobias Jesso Jr. also penned tracks for the album. [32]
On September 6, 2015, Sia confirmed that she, Adele, and Tobias Jesso Jr. had written a song together for the album, titled "Alive"; however, it was cut at the last minute and was re-recorded by Sia as the lead single for her seventh studio album, This Is Acting, and would be released on September 25. [62][63] It was, however, released one day early, crediting it to the fact that she "couldn't wait any longer." [64] Two additional songs were written with Sia for the album; however, those were cut as well. Sia later revealed in an interview with Ryan Seacrest that both "Alive" and a track titled "Bird Set Free" were recorded by Adele, but were cut at the last minute and would feature on her album instead. [65] Jesse Shatkin, who produced "Alive," revealed in an interview with Billboard that he had also worked with Adele for the album, but that their collaborations would most likely not make the final cut. [66]
Damon Albarn also confirmed that he and Adele collaborated on five tracks, but all five were cut from the album; he further confirmed Danger Mouse's involvement in the album, which he controversially described as "very middle of the road." [67]
Hits Daily Double later not only further verified the claims that Paul Epworth, Ryan Tedder, Tobias Jesso Jr., and Max Martin all had material on Adele's new record, but also published new information that revealed Adele recruited "Someone Like You" co-writer Dan Wilson and pop producers Greg Kurstin and Jeff Bhasker for the new record as well. [68] Mark Ronson also revealed that he had worked on new Adele music, but was unsure of whether or not it made the final cut. [69]
Themes and inspiration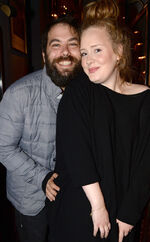 Sources originally stated that the follow-up to
21
would be inspired by Adele's pregnancy and motherhood.
[70]
Although there was some speculation that Adele would write more songs about heartache, she stated that she will never write another breakup record again: "I'm done with being a bitter witch."
[71]
Adele also implied that it would be a happy record that may also chronicle her relationship with
Simon Konecki
, her boyfriend, stating, "I'll never be devastated again."
[72]
When asked about the album at the Academy Awards in 2013, Adele stated that it would pay homage to different musical styles; she further added that it would be much "rawer" than 21. [73] She had previously expressed interest in expanding her sound to genres such as country and bluegrass, stating that she wanted to do some of the work for the album in Austin, Texas and Nashville, Tennessee. [74] This music influenced some of the music on 21, including "Don't You Remember" and a live cover of country group Lady Antebellum's song "Need You Now." Singer Kelly Clarkson, a fan and friend of Adele's, further confirmed this, telling the Wall Street Journal that, "I heard Adele is doing something more country-influenced with [her] next record." [75] It had also been suggested that Adele would be returning to her modern jazz roots on 25 earlier on in the writing process. [76] Ryan Tedder revealed prior to the Grammy Awards in 2014 that the album had a "different" sound and that Adele was happy and in a good place at the moment, adding that she was currently working on it with plans to release it when she felt it was good and ready. [77][78]
Adele revealed in a 2013 interview that, "I'm not sure [when the album will be out]. We've been meeting with writers and talking but nothing is happening now. I'm a mother! I'm very into that. Also, I don't know what to write about yet. The last album [had a theme]." When the interviewer suggested that she focus on covering other artists' material, she said, "I'm a writer and I'm going to write it." [79]
Adele spoke about the inspiration behind the album more in-depth in a post on her social media:
| | | |
| --- | --- | --- |
| " | My last record was a break-up record and if I had to label this one I would call it a make-up record. I'm making up with myself. Making up for lost time. Making up for everything I ever did and never did. But I haven't got time to hold on to the crumbs of my past like I used to. What's done is done. Turning 25 was a turning point for me, slap bang in the middle of my twenties. Teetering on the edge of being an adolescent and a fully-fledged adult. I made the decision to go into becoming who I'm going to be forever without a removal van full of my old junk. I miss everything about my past, the good and the bad, but only because it won't come back. When I was in it I wanted out! So typical. I'm on about being a teenager, sitting around and chatting shit, not caring about the future because it didn't matter then like it does now. The ability to be flippant about everything and there be no consequences. Even following and breaking rules... is better than making the rules. 25 is about getting to know who I've become without realising. And I'm sorry it took so long, but you know, life happened. [4] | " |
Later that week, in an interview with BBC 1's Nick Grimshaw, Adele revealed that she had written an entire album about being a mother and ultimately scrapped it because she found it to be "boring." [80] She later admitted that the material she had composed for 25 was enough for three or four albums. [81]
Adele revealed to Rolling Stone that Madonna's seventh studio album Ray of Light heavily inspired the album:
| | | |
| --- | --- | --- |
| " | You know what I found so amazing about that record? That's the record Madonna wrote after having her first child, and for me, it's her best. I was so all over the place after having a child, just because my chemicals were just hitting the fucking roof and shit like that... I was just drifting away, and I couldn't find that many examples for myself where I was like, 'Fuck, they truly came back to themselves,' until someone was like, 'Well, obviously, Ray of Light.' [82] | " |
Track listing
No.
Title
Writer(s)
Producer(s)
Length
1.
"Hello"
Adele Adkins, Greg Kurstin
Kurstin
4:55
2.
"Send My Love (To Your New Lover)"
Adkins, Karl Johan Schuster, Max Martin
Martin, Shellback
3:43
3.
"I Miss You"
Adkins, Paul Epworth
Epworth
5:49
4.
"When We Were Young"
Adkins, Tobias Jesso Jr.
Ariel Rechtshaid
4:51
5.
"Remedy"
Adkins, Ryan Tedder
Tedder
4:05
6.
"Water Under the Bridge"
Adkins, Kurstin
Kurstin
4:00
7.
"River Lea"
Adkins, Brian Burton
Danger Mouse
3:45
8.
"Love in the Dark"
Adkins, Sam Dixon
Dixon
4:46
9.
"Million Years Ago"
Adkins, Kurstin
Kurstin
3:47
10.
"All I Ask"
Adkins, Bruno Mars, Christopher "Brody" Brown, Philip Lawrence
The Smeezingtons
4:32
11.
"Sweetest Devotion"
Adkins, Epworth
Epworth
4:12
Song speculation
Adele originally indicated that she wanted to cover "Never Tear Us Apart" by INXS on her third studio album.
| | | |
| --- | --- | --- |
| " | I have five tracks ready to go. One of them is quite upbeat — a real 'girl power' type of song. I plan to do a cover of the INXS hit 'Never Tear Us Apart' which is probably my fave song of all time. The whole album will have quite a live feel to it. [85] | " |
However, when the final track listing was revealed, it was also confirmed that the song was either cut or never re-recorded for the album, after it was previously cut from 21. Adele had confirmed in 2011 that there were at least seven songs that she had already written and lined up for the album. Adele worked with Paul Epworth on three songs that did not make the cut for 21 that may be released on the new record: "Haunted Skies," "Waiting for You," and "Saviour." An additional unreleased song named "Run Away" also exists and was reportedly considered for the new album. Paul Epworth confirmed to a fan on his official Twitter account that Adele had strongly considered debuting their song "Saviour" at one of her live shows during the Adele Live tour (although she never did) and said they were considering it for a future release. [86][87]
It was reported in January 2014 that the album's lead single was titled "Devil On My Shoulder," although the song was actually a track considered for 21 before being cut.
Cut songs
Promotion
Tour
In an interview after the Golden Globe Awards, Adele confirmed plans to tour in the US when her next album was out, being that she had to cancel the remainder of her previous tour, the Adele Live tour. [88] In a letter to one of her fans, Adele also confirmed plans to tour in Brazil when her next album is out; many fans interpreted this as a hint towards a world tour. [89] During interviews prior to the album's release, Adele admitted to being hesitant to tour globally, revealing that she might only be capable of touring as much as she had done for previous albums. On November 26, 2015, however, Adele confirmed she had been bluffing and announced the European leg of her Adele Live 2016 tour. On December 14, she announced the North American leg of the tour.
Television appearances
Hits Daily Double confirmed that Adele had also secured a deal with NBC that would guarantee her own television special, as well as appearances on Saturday Night Live, The Today Show, and The Tonight Show Starring Jimmy Fallon. [1] It was later confirmed that Adele would be the musical guest on the November 21 episode of Saturday Night Live, and that she would be filming a television special on November 17 at Radio City Music Hall, titled Adele Live in New York City, that would be broadcast on NBC on December 14. [90][91] Adele also recorded an additional television special, Adele at the BBC on November 2 in London. Comprised of an interview with Graham Norton and performances of new songs, as well as songs from previous records, the program aired on BBC One on November 20, the same day the album was released. [92]
Singles
On October 18, a snippet of a new Adele song from her new album was previewed in a television spot during an airing of The X Factor in the UK. [93] On October 22, Adele confirmed that the lead single, "Hello," and its music video, would be released the following day, on October 23. [94] "Hello" was released to positive critical and commercial response, and its accompanying music video went on to break the previous Vevo Record by achieving over 23.2 million views within a 24-hour span. [95] The song peaked at number one on the Billboard Hot 100, where it remained for ten consecutive weeks.
On December 14, it was confirmed that "When We Were Young" would be released as the album's second single. [96] The song was officially released on January 22. [97][98] The song peaked at number fourteen on the Hot 100. On April 27, "Send My Love (To Your New Lover)" was announced as the third single from the album, and was released on May 16, 2016. [99]
Booklet
Album artwork
The album's artwork was unveiled on October 22, 2015, through Adele's official website and social media. It was photographed by Alasdair McLellan. [100]
Commercial demand
The album became the most requested music-related item ever on the UK Amazon Store prior to there even being an announcement of new music from Adele. Fans who contacted Amazon customer support about the third album have received this message: "Over 100,000 requests for Adele's yet-to-be-recorded third album have put this music product way above any other request for any form of music since Amazon started in 1995." [101] On October 23, the same day the album was made available for pre-order, it reportedly became the most pre-ordered album of all-time. [102]
References