Adele has been unusually busy lately, wouldn't you say, Daydreamers? I mean... As if taking care of her 13-month-old son Angelo with boyfriend Simon Konecki isn't enough, in recent days, she has allowed herself be photographed with her family on several occasions, thanks to the nosy paparazzi over in the UK that are watching her every move. Unfortunately, the one thing they have no photos of is Adele in the studio. Don't worry, though, her team made sure we were well aware that she may be back in the studio, and new music may be on the way... for real, this time. I present my evidence below.
Exhibit A: Adele's new Google+ account.
Yes, Adele's team created a Google+ account for her on November 19, 2013. Coincidence? I think not. I mean... Why would her team create a Google+ account out of nowhere with no given reason? If that's not evidence enough, maybe this is. Her first – and so far only – post on Google+ was a picture using the font and logo from the 21 era that reads "Welcome to the Official Google+ Page of Adele". Below the text, though, is a picture of Adele... in the studio. Now, keep in mind that the picture was from when she was recording 21 and is featured in the booklet for the Target deluxe edition of 21. Despite this, of all the photos they could've used, they used one of her in the studio. Something tells me that her team wants us to read in between the lines. A link to the Google+ account has been added to Adele's official website as well. To follow Adele's Google+ account, go here: https://plus.google.com/+adele/about.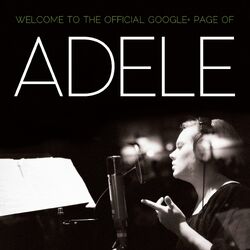 Exhibit B: Adele's YouTube account has been verified (finally) and has had the user name changed.
The next point I would like to make is that Adele's personal YouTube account (not her VEVO one, but the other one), which was formerly known as "AdeleLondon", recently had its user name changed to simply "Adele". This could be another sign that her team is prepping for new music. Again, this was totally out of the blue. If you think about it, both "Chasing Pavements" and "Rolling in the Deep" were released towards the end of the year. Adele could easily announce her new single and release it a few weeks later. While it's still unlikely, it is possible. To subscribe to and view Adele's personal YouTube account, go here: http://www.youtube.com/user/adelelondon/videos. 
Exhibit C: Adele's first "selfie" on Twitter in months.
It's no secret that Adele's activity on Twitter has been unusually active. Today was no exeception, either. Adele posted her first "selfie" in months today. 
While this could be taken with a grain of salt, it seems as though Adele's increasing usage of social networks could be hinting at something. Instagram also recently had an incredibly popular account posing Adele shut down after they posted an image saying "Coming soon...." While this hint at new music was unofficial, it has been speculated that Adele's team may have been the ones to have it shut down out of fear that Adele's lead single might not come as a surprise to her fans. So far, though, the lid has been sealed as far as information regarding new music goes. If you ask me, though, Adele is up to something and will at least have an announcement by the end of the year. Stay tuned, Daydreamers. She's coming back! 
Ad blocker interference detected!
Wikia is a free-to-use site that makes money from advertising. We have a modified experience for viewers using ad blockers

Wikia is not accessible if you've made further modifications. Remove the custom ad blocker rule(s) and the page will load as expected.