Adele has managed to keep her and her family hidden from the paparazzi pretty well recently. Just last Sunday, though, she was briefly spotted in the UK with her adorable baby boy, Angelo (or so he is rumored to be named) and the paparazzi got a glimpse at his face; they were so desperate to get a good look that they zoomed in on the picture they had in an effort to see his face, and although they could only see part of it and it was quite blurry, it was a good place to start! A few days later, however, Adele appeared again... in New York. Adele was there for a party for Columbia Records chairman Rob Stringer, who was named UJA Visionary of the Year. Adele presented him with the award and took the time to get photographed with some of the people in attendance, including her idol Beyoncé's husband, Jay-Z.
A few days later, a
Twitter
 user claimed that she saw Adele enter the Sony building in New York with her son
Daydreamer
 on the official Adele forums on her 
official site
 claimed that Adele would be staying in New York for a while with her son. Although Adele disappeared from the public eye for a few days, she returned 3 or 4 days later, showing her son to the world... finally! She had taken Angelo to the Central Park Zoo with a few of her friends and for once, did not even bother to hide his face, as it was very hot out.
Adele also posted a rare picture of herself on Instagram and Twitter, with the caption stating that she had gone out to dinner and ran into magician David Blaine. It was later confirmed by OneRepublic frontman Ryan Tedder (who collaborated with Adele on two of her tracks from 21, "Rumour Has It" and "Turning Tables") that he was at the dinner with Adele. Although the night they went out, it was his birthday (so it was very possible they had only gone out for his birthday), we suspect something else is going on.... Perhaps another collaboration on her third album that she is rumored to be working on? We hope so!
Today, more pictures of Adele letting Angelo's face be clearly visible to the public eye surfaced on the web. But perhaps the best Adele news we've received today is she has a new
tattoo
.... And yeah, I know how weird that sounds. The point is, the tattoo, which appears on the singer's left hand, reads "Paradise" and bears resemblance to a similar tattoo sported by Lana Del Rey, a fellow performer. Some reports are still claiming Adele's last tattoo (a script letter "A", behind her ear) was hinting at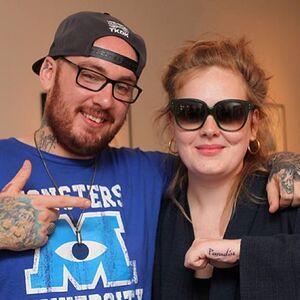 something - in this case, her son's name - and therefore, there are rumors that this tattoo also has meaning.... Several people suspect that this is hinting at new music from Adele; a possible lead single name, or even album name...? This would be similar to
Lady Gaga
's Artpop tattoo that she posted a picture of when hinting at her upcoming album's name on Twitter. And the name "Paradise" would make sense if Adele is working on a happier record than her previous two.
In addition to this, more and more rumors are swirling that despite a previous denial from Adele, she is indeed secretly married to boyfriend Simon Konecki... or at least, planning a secret wedding to him for the summer or fall.
If this is the case, more inspiration may come for her happier third album!Therefore, it seems as though the chances are very likely that new Adele music is on the way. We have our fingers crossed, although nothing is official yet. Let's pray that we have at least the album's lead single by the end of this year!
Ad blocker interference detected!
Wikia is a free-to-use site that makes money from advertising. We have a modified experience for viewers using ad blockers

Wikia is not accessible if you've made further modifications. Remove the custom ad blocker rule(s) and the page will load as expected.