Hello from the other side, Daydreamers, and Happy Thanksgiving! We have some HUGE news for you.
Adele confirmed via social media this morning that she will be touring in support of her new album, 25! So far, only UK/European dates have been announced; however, she is expected to announce American dates very soon. Earlier this year, Adele also hinted to a fan in Brazil that she would be touring there in support of her next album; however, it is unknown if Adele will stick to that plan or not. Watch the rather comical tour announcement video below, in which Adele reveals that she has been "bluffing" about a tour the entire time: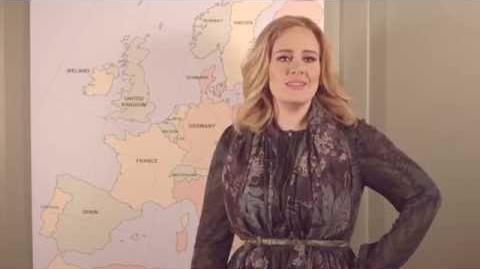 Presale codes are available, but only for members of Adele's official site. We are being told that ticket prices are expected to be pretty reasonable. Oh, and did we mention that Adele is expected to do arenas on this tour, as she promised last time around? This tour is going to be MASSIVE. 
For more information, please check out the tour page on Adele's website here. Fingers crossed for American dates soon!
Ad blocker interference detected!
Wikia is a free-to-use site that makes money from advertising. We have a modified experience for viewers using ad blockers

Wikia is not accessible if you've made further modifications. Remove the custom ad blocker rule(s) and the page will load as expected.