The Brit Awards
took place tonight, and following last year's controversial ending, we were a little afraid to see what would happen this year at the Awards. And if you have no idea what we are talking about, here's a bit of a memory refresher: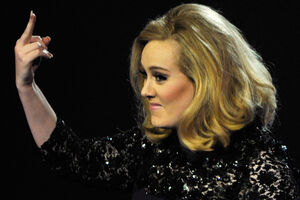 Yeah, Britain learned to never piss off Adele by interrupting her, because she will sabotage your award show by sticking out her middle finger. Gotta love that Adele! Anyways.... The point is, last year, Adele was cut off during her acceptance speech for Album of the Year due to the show running over the time it was expected to. James Corden, who is a friend of Adele's, was forced to cut her off. Well... They wanted to make it up to Adele this year, so when she won the award for Best British Single for "Skyfall", she pre-recorded the acceptance speech due to her being in Los Angeles preparing for her performance at the Oscars this Sunday. So... Yay! She won! Congratulations, Adele.
Here's the bad news....
Those shit head people at the Brits.... They gave the award for Brits Global Success to f***ing One Direction. One Direction..... The same teenage boys who overtook Justin Bieber as the #1 teen icon (next to Taylor Swift)..... In other words, they are not talented or genuine enough to deserve this award. They beat out Mumford & Sons and Adele for this award. That just shows how awful the people at the Brits are....
Just thought I'd make a note of that. Hopefully the people at the Oscars won't be that stupid and will give Adele the award she rightfully deserves: Best Original Song. We'll find out this Sunday! *fingers crossed*
Ad blocker interference detected!
Wikia is a free-to-use site that makes money from advertising. We have a modified experience for viewers using ad blockers

Wikia is not accessible if you've made further modifications. Remove the custom ad blocker rule(s) and the page will load as expected.