We officially have our first post-baby body pic of Adele, as she walks the red carpet for the Golden Globe Awards... She looks as happy and beautiful as ever! Take a look below: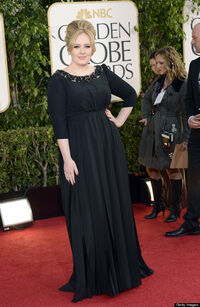 Adele was nominated for "Best Original Song" tonight for her song "Skyfall", co-written with Paul Epworth. We can only hope that she wins the award. =)
Update: We are so proud to announce that Adele has won the award for Best Original Song. After much suspense, a playful smile from Jennifer Lopez, one of the presenters of the awards, told us that this had to be a good sign, and it was when she happily announced that the winner was none other than Adele for "Skyfall". Among the people Adele thanked were her co-writer, Paul Epworth, her newborn son, and her boyfriend, Simon Konecki, who encouraged her to perform the song. We are so proud of you, Adele. We didn't doubt you for a second and no one deserved this award more than you. Congratulations.
Ad blocker interference detected!
Wikia is a free-to-use site that makes money from advertising. We have a modified experience for viewers using ad blockers

Wikia is not accessible if you've made further modifications. Remove the custom ad blocker rule(s) and the page will load as expected.