Hello, Daydreamers! Welcome back to Christmas With Adele! We have a lot to cover today!
First matter of business... Last week's Album vs. Album was an overall success. By a landslide vote, we are pleased to announce that the winners are:
This week, we will have these three albums competing against one another. You may only vote for one. Votes are due a week from today; Sunday, December 22nd, 2013. Please Tweet to us or vote in the comments below.
The second matter of business... We have a tidbit of Christmas / Adele-related news. We hear Adele is hosting Christmas at her place this year! And she's going to have a lot of celebrity guests present. She's invited neighbor and friend David Walliams and his wife and child, as well as friends Sid Owen and Zoe Ball, among others. Simon has supposedly bought a gigantic 24-pound turkey for the celebration, and Adele plans to make it her best Christmas yet! We are very excited for them and wish for the best, although we can't help but wish we were there too..... *sigh*
Anyways... For today's Christmas With Adele, we have two things! The first is a Christmas-themed image of Adele, courtesy of some of Adele's Daydreamers from Twitter that we thought you guys might find funny: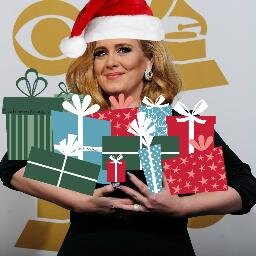 For the final matter of business, we have two more surprises for you!
First of all, as a Christmas gift from us to you, we would like to direct you to Adele Media, a Tumblr site dedicated to Adele that posts MP3s of her live performances. Keep in mind the site has been inactive for a while and the guy in charge hasn't been able to update some of the deleted links, so some of them may not work, but many of them do. I used this site for a long time, and some of the MP3s are really a nice thing to add to your collection of Adele music. 
Secondly, we have a game for you guys today! It's not from our site, it was created by another Adele fan, but I'm sure you will all like it. Can you guess all the tracks from Adele's first two albums? Find out! All you have to do is type song titles into the box and if it's correct, it will be added to the track listing for the appropriate album. Your job is to remember all of them... without looking up the answers! You can play the game here: http://www.sporcle.com/games/rlnintendo/adele. Afterwards, we encourge you to post your final time and score below!
We'll see you next week for our final week of Christmas With Adele!
Ad blocker interference detected!
Wikia is a free-to-use site that makes money from advertising. We have a modified experience for viewers using ad blockers

Wikia is not accessible if you've made further modifications. Remove the custom ad blocker rule(s) and the page will load as expected.