Hello, Daydreamers! It is finally the last week of Christmas With Adele. Unfortunately, due to time constraints, I was unable to have a game created like last year, but we do have plenty in store for you!
First of all... We have the results from the Album vs. Album contest, and... No surprise here, the winner is *drumroll please*... the flawless 21!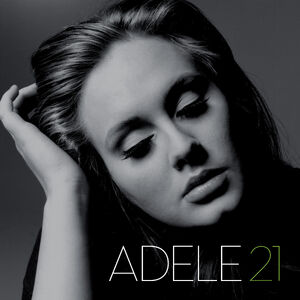 The next matter of business... In honor of the end of the year coming, I thought we would chronicle Adele's Year in Review. She's had another incredible year this year, so what better way to end it than to look back on the good old days (aka earlier this year) when she was actually doing something? :) Here is Adele's Year in Review:
January 13, 2013: Adele wins the Golden Globe for Best Original Song for "Skyfall". 
February 10, 2013: Adele wins the Grammy Award for Best Pop Solo Performance for "Set Fire to the Rain (Live at the Royal Albert Hall)" and confirms she is starting meetings for her third album. 
February 20, 2013: Adele wins the BRIT Award for British Single of the Year for "Skyfall". 
February 24, 2013: Adele wins the Oscar for Best Original Song for "Skyfall" and performs the song live for the first time. 
May 19, 2013: Adele wins the Billboard Music Award for Top Pop Album for 21. 
June 2013: Adele presents the Visionary of the Year Award to Rob Stringer. The first pictures of baby Angelo are seen. Adele is rumored to be spotted entering and leaving a recording studio.
July 3, 2013: Adele's wax figure at Madame Tussauds is unveiled.
September 1, 2013: Adele is spotted at Lady Gaga's gig at the iTunes Festival.
September 29, 2013: Adele is spotted at Justin Timberlake's gig at the iTunes Festival.
October 2013: Adele confirms via Twitter that she has passed her driver's test. Adele's son Angelo has his first birthday. Ryan Tedder confirms his involvement with Adele's third studio album and says that it is currently being worked on.
November 20, 2013: Wiz Khalifa re-confirms he has collaborated with Adele for his new album.
December 6, 2013: Adele and Simon attend a secret Lady Gaga gig and allow reporters to take pictures of them for the first time.
December 19, 2013: Adele receives her MBE from Prince Charles.
And if that wasn't enough, we also have Adele's year in GIFs, courtesy of my assistant administrator, Tor Duck: http://belovedfilms.tumblr.com/post/70772060568/adele-2013. He also gave us links to more funny Tumblr posts about Adele, if anyone is interested in viewing them: 
And to top it off, I do want to give all of you Daydreamers a Christmas gift being that I was unable to do anything super special this year for you. In 2011, Adele performed a three-song acoustic set at NPR. NPR has posted the MP3 of her 'Tiny Desk Concert' on their website for free, and as a Christmas present to you guys for all your support, I'm giving you guys the download link to it: http://pd.npr.org/anon.npr-mp3/npr/asc/2011/02/20110213_asc_adele.mp3?dl=1. Simply click the link and it should begin downloading.
I wish you all a Merry Christmas and a blessed holiday! We will see you in the new year! Thank you for another wonderful year and for all your love and support!
Ad blocker interference detected!
Wikia is a free-to-use site that makes money from advertising. We have a modified experience for viewers using ad blockers

Wikia is not accessible if you've made further modifications. Remove the custom ad blocker rule(s) and the page will load as expected.