The past few days have been incredibly exciting for Daydreamers!
Today, Billboard confirmed via Twitter that "Water Under the Bridge" will be released as the fourth single from 25 on November 14! It was speculated to be the fourth single for months, but being that Adele hasn't mentioned anything at her shows about it, we became a bit skeptical. However, we finally have confirmation that we will be getting a fourth single from the album! "Water Under the Bridge" will most likely serve as the final single from 25. 
In other news, Adele's cover story for the December issue of Vanity Fair has been published online, with several gorgeous pictures of her! In her interview, she talks about coping with postpartum depression, her ongoing world tour, and more. It's a great read, and I strongly encourage you guys to check it out! The magazine will be available physically on Friday, November 4.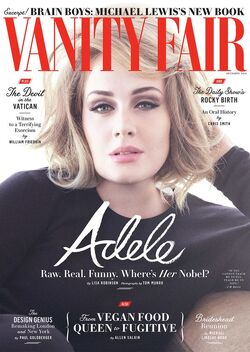 And finally, I'm really pleased to say that the submissions for the Grammy Awards have leaked online, and therefore, we can confirm that Adele has submitted material in the following categories:
Album of the Year (25)
Record of the Year ("Hello")
Song of the Year ("Hello")
Best Pop Solo Performance ("Hello")
Best Pop Vocal Album (25)
Best Short Form Music Video ("Hello")
The nominations will be announced on December 6, so tune in then to see which categories Adele has been nominated in!