Hi everyone!! :) This is just a little Halloween blog I'm putting together in order to get ready for Halloween. I am planning on dressing the Wiki up for Halloween a little bit this year (if you don't know what I'm talking about, please go to the Halloween Wiki for more information. Anyways... To get in the spirit, I thought you'd all enjoy a link to this website that makes celebrity masks -- their latest addition is none other than Adele. =) Please go to the link here to view or buy it: http://www.google.com/imgres?hl=en&tbm=isch&tbnid=lZW1TXilKFhxJM:&imgrefurl.... If you're too lazy to click the link, here's the picture below: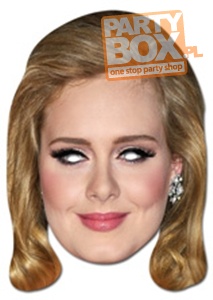 More Halloween-themed articles, pictures, etc. will be posted soon. :)
I also edited this image of Adele because I thought it would be a nice addition to our Halloween theme:
Don't worry -- she's a good witch. ;)
Ad blocker interference detected!
Wikia is a free-to-use site that makes money from advertising. We have a modified experience for viewers using ad blockers

Wikia is not accessible if you've made further modifications. Remove the custom ad blocker rule(s) and the page will load as expected.