Hello, everyone!
Needless to say, we are still anxiously awaiting a new album from Adele, who hasn't released a full-length LP in over four years, the last being her record-breaking 21. Despite the absence of new Adele music in our lives, earlier this week, multiple reports surfaced that would suggest Adele will be very busy in the coming months, and hopefully back in the public eye very soon.
Firstly, it has been reported that Adele will indeed record the theme for the twenty-fourth James Bond film, Spectre, due out this November. Adele previously wrote "Skyfall" for the film of the same name with Paul Epworth, a song for which the duo received the Academy Award for Best Original Song at the Oscars in 2013. Spectre star Daniel Craig is reportedly determined to get Adele to do another Bond theme, and if all goes well, his convincing will work. Although up and coming British soul singer Sam Smith has been tipped to sing the song on multiple accounts, he has denied the reports, and the latest speculation is that Adele has already been chosen to record the theme. Adele's representatives and MGM Studios both denied to comment on the issue, however, Skyfall star Ben Whishaw, who will reprise his role as Q in the upcoming film, has confirmed that a singer has been chosen, but they are unable to disclose who it is at this time. 
In other news, pop star Lady Gaga, a close friend of Adele's, may be potentially working with our favorite singer on some new music. The "Bad Romance" singer took to Instagram to post a picture of herself with Adele, causing speculation that the two were recording new music together. Diane Warren, who has worked with Adele for her third studio album, was in the studio with Gaga last week for a song on the soundtrack for The Hunting Ground; it has been suggested that they may have potentially been working with Adele for a song on her upcoming LP as well, considering that all three women are currently in LA. If that's not enough, then perhaps this will make you think twice: Warren, who has directly mentioned working with certain artists (such as Gaga) in the past via Twitter, posted cryptic messages on the social networking site the other day about music that she wasn't able to talk about, which of course, had Adele written all over it. The song, which she claimed she could not stop listening to, will "blow people's minds" when they hear it, according to Warren.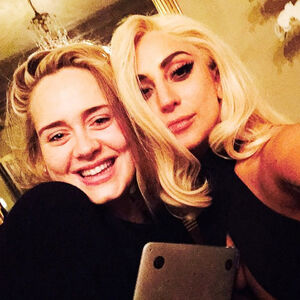 And finally... Could 25 be coming sooner than expected? Rumors are continuing to circulate that Adele will attend the Grammy Awards in February being that she has been staying in LA for the past few weeks, and amid these rumors, Hits Daily Double is reporting that Adele will release her new album in the first quarter of 2015. The Daydreamers are praying that she will debut the lead single from her new album at the Grammys this year. One can only hope that Adele's new music is really coming soon!
Ad blocker interference detected!
Wikia is a free-to-use site that makes money from advertising. We have a modified experience for viewers using ad blockers

Wikia is not accessible if you've made further modifications. Remove the custom ad blocker rule(s) and the page will load as expected.