Daydreamers, don't get too excited, as this is still unconfirmed, but... Supposedly, Paul Epworth – the man responsible for co-writing hits such as "Rolling in the Deep", "Skyfall", "I'll Be Waiting", and "He Won't Go" – leaked an image on Twitter that he might not have been supposed to leak. So, what was it of? Supposedly, Adele's band in the studio, recording for her third studio album. 
Earlier this month, it was reported that Adele was working on a new album and "sounded better than ever", as Ryan Tedder put it. The record supposedly would see the return of all the familiar faces from 21 (although the only confirmed ones have been Ryan Tedder and Paul Epworth) as well as a few new faces, including rumored collaborations with Kid Harpoon and James Ford, known for their work with Florence + The Machine and friend of Adele's, Jessie Ware. Tedder later commented on the album further and revealed that the album was a very secret project, and that he couldn't give any details regarding it. (He was, however, the one that may have confirmed the return of the people who worked on 21 – who, besides himself, included the likes of Paul Epworth, Rick Rubin, Dan Wilson, Jim Abbiss, and Greg Wells.) 
Anyways... What would give us an indication that this picture is of Adele's band in the studio? Well...
The picture was deleted after Paul Epworth posted it – most likely due to the fact that people immediately began to assume whose album the band was working on. 
A French Adele fan account has indicated that various members of Adele's band can be made out, most notably the pianist, who appears to be none other than Adele's touring pianist, Miles Robertson.
Adele's new album is being worked on at the moment, as previously confirmed by Ryan Tedder.
The band appears to be playing more acoustic, stripped back music, something that Adele is known for.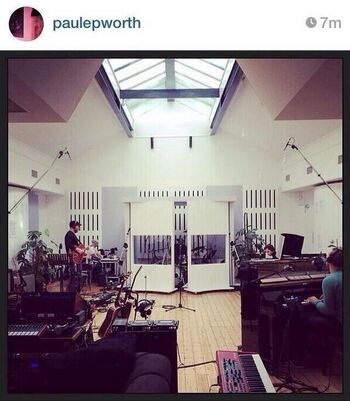 While we should not jump to any conclusions, it would be very likely that Paul Epworth has confirmed his involvement in the album. Not to mention, if Adele and the band are already recording stuff, this must mean the album is pretty far along. 
The album was previously rumored to be released in autumn of 2013, and later in mid-2014, with the latter being the date that most people believe will be the release of the album. Anyone else excited for new Adele music?
To see the Tweet, please go here: https://twitter.com/AdeleSourceFR/status/392967140229517312/photo/1.
To read more fans' opinions on this and get more information, please go here: http://atrl.net/forums/showthread.php?p=17395925&posted=1#post17395925.
Ad blocker interference detected!
Wikia is a free-to-use site that makes money from advertising. We have a modified experience for viewers using ad blockers

Wikia is not accessible if you've made further modifications. Remove the custom ad blocker rule(s) and the page will load as expected.