Yes, Daydreamers..... There is no new information regarding Adele's third studio album, but there is new music from Adele that is supposedly on the way...... Rapper Wiz Khalifa has recently confirmed that he and Adele worked on some music together that is being considered for his upcoming fifth studio album, Blacc Hollywood.
| | | |
| --- | --- | --- |
| " | I got a lot of guest appearances that I've already done, but none of them have been cleared for the album yet. I got songs with Miley [Cyrus], I got songs with Adele. | " |
We would like to emphasize the fact that Wiz Khalifa used the word "songs"..... as in, plural form... meaning, more than one. In the past, Adele was rumored to have worked with other big-name rappers such as Tinie Tempah, Jay-Z, and Kanye West, although none of these collaborations have happened yet. In the meantime, as Adele gradually works on her third album, more and more artists have been announcing albums due out this year, and with the announcements have also come rumored collaborations with Adele. Rumour Has It that she has worked with Lady Gaga, Beyoncé, and Avril Lavigne, among numerous others, although all of these rumors are highly unlikely and should be disregarded until Adele confirms them herself. Big Sean also hinted that he collaborated with Adele on his album, although upon its release it was revealed that she was not to appear on his album, with some fans speculating he said this in order to gain hype for the album.
Anyways, back to Wiz Khalifa and Adele.... Of all the collaborations, it seemed very unlikely she would choose to work with a rapper, although we are excited to hear that there might be new Adele music on the way. The collaborations have yet to be cleared for the album, meaning that however many collaborations between Adele and Wiz Khalifa there were, any of them could be cut. It would seem very unlikely that collaborations with such a huge artist as Adele would be cut, though, being that people are still waiting for new music from her, as she hasn't released anything since October of last year when she released the digital download single "Skyfall" for the film of the same name. The chances of a collaboration between the two appearing on the album are even higher being that there are multiple songs that were worked on between the two. While it may seem like an odd pairing, there is photographic evidence to prove that they are friends, as Adele was spotted with Wiz and his wife at the Grammy Awards in 2013: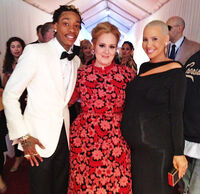 Whatever they are working on, we are excited to see what they have in store! We are PRAYING that all of the songs Wiz and Adele worked on together will appear on the album, which is due out later this year.
Ad blocker interference detected!
Wikia is a free-to-use site that makes money from advertising. We have a modified experience for viewers using ad blockers

Wikia is not accessible if you've made further modifications. Remove the custom ad blocker rule(s) and the page will load as expected.