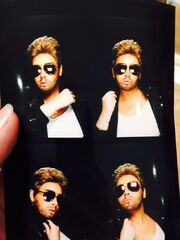 So, this isn't some grand news. It's just a humorous treat. We all know Adele celebrated her lovely birthday at May 5th some days ago. You know what she did? Yep, you guessed it (because the title says so, ahem), she was in drag! She dressed as her icon George Michael from the group Wham!, whom also replied to Adele's tweet about it! Check it out here:
https://twitter.com/OfficialAdele/status/595852007379968001/photo/1
May you have a nice day.
Yours sincerely,
Tor Duck
Ad blocker interference detected!
Wikia is a free-to-use site that makes money from advertising. We have a modified experience for viewers using ad blockers

Wikia is not accessible if you've made further modifications. Remove the custom ad blocker rule(s) and the page will load as expected.