Wiz Khalifa

Information

Birth name

Cameron Jibril Thomas

Born

September 8, 1987

Birth place

Minot, North Dakota, United States

Genres

Hip hop

Occupation(s)

Rapper, songwriter, actor

Labels

Rostrum, Taylor Gang, Atlantic, Warner Bros.
Cameron Jibril Thomaz (born September 8, 1987), better known by his stage name Wiz Khalifa, is an American rapper, songwriter, and actor. He released his debut album, Show and Prove, in 2006, and signed to Warner Bros. Records in 2007. His Eurodance-influenced single, "Say Yeah," received urban radio airplay, charting on the Rhythmic Top 40 and Hot Rap Tracks charts in 2008.
Khalifa parted with Warner Bros. and released his second album, Deal or No Deal, in November 2009. He released the mixtape Kush and Orange Juice as a free download in April 2010; he then signed with Atlantic Records. He is also well known for his debut single for Atlantic, "Black and Yellow," which peaked at number one on the Billboard Hot 100. His debut album for the label, Rolling Papers, was released on March 29, 2011. He followed that album with O.N.I.F.C. on December 4, 2012, which was backed by the singles "Work Hard, Play Hard," and "Remember You." Wiz released his fourth album Blacc Hollywood on August 18, 2014, backed by the lead single "We Dem Boyz." In March 2015, he released "See You Again" for the soundtrack of the film Furious 7; the song peaked at number one on the Billboard Hot 100.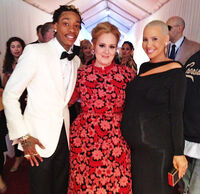 In 2013, it was confirmed that Wiz Khalifa had recorded songs with
Adele
for his upcoming fifth studio album,
Blacc Hollywood
. When Khalifa confirmed that he had worked with Adele, he stated that the songs they had worked on were being considered for the album, although they had yet to be cleared for the album (along with collaborations between Miley Cyrus and Juicy J). He also confirmed it again, at an interview with Skee Live.
[1]
He later revealed that his collaboration with Adele, like the rest of the songs on the album, serves a purpose and that it would tie in with the rest of the album.
[2]
 However, he later backtracked on these statements, indicating that it was solely an "idea" and that they had never actually recorded anything, before adding that he wanted to collaborate with her in the future.
[3]
References
Edit
Ad blocker interference detected!
Wikia is a free-to-use site that makes money from advertising. We have a modified experience for viewers using ad blockers

Wikia is not accessible if you've made further modifications. Remove the custom ad blocker rule(s) and the page will load as expected.